Lemore supplies two kinds of piano wire: piano steel wire and stainless steel piano wire. Piano wire can be made of high carbon steel wire which offers great strength.

Technical Information of Piano Steel Wire:
Material Standard: AISI, ASTM, DIN, GB, JIS, SUS
Steel Grade: 201, 202, 304, 304L, 316, 316L, 316Ti, 310S, 2080, 430, 317, 347, 410, Monel400,etc.
Wire Diameter: 0.10-6.00mm
Softness: Soft wire, semi-soft wire, hard wire
Surface of Piano Wire: electrolysis bright, bright, matt.
Type: Hydrogen, Cold rolled, light
Tensile strength: High carbon according to your requirement.
Coating: Zinc Coated
Packing : in plastic spool ,reel, drum or according to your requirements.
Specification: ASTM A228
Application: For piano or other application.
Stainless Steel Piano Wire Chemical Composition:
AISI Grade
Chemical Composition(%)
C
Si
Mn
P
S
Ni
Cr
Mo
304
≤0.08
≤1.00
≤2.00
≤0.045
≤0.030
8.00~10.50
18.00~20.00
-
304H
>0.08
≤1.00
≤2.00
≤0.045
≤0.030
8.00~10.50
18.00~20.00
-
304L
≤0.030
≤1.00
≤2.00
≤0.045
≤0.030
9.00~13.50
18.00~20.00
-
316
≤0.045
≤1.00
≤2.00
≤0.045
≤0.030
10.00~14.00
10.00~18.00
2.00~3.00
316L
≤0.030
≤1.00
≤2.00
≤0.045
≤0.030
12.00~15.00
16.00~18.00
2.00~3.00
430
≤0.12
≤0.75
≤1.00
≤0.040
≤0.030
≤0.60
16.00~18.00
-
430A
≤0.06
≤0.50
≤0.50
≤0.030
≤0.50
≤0.25
14.00~17.00
-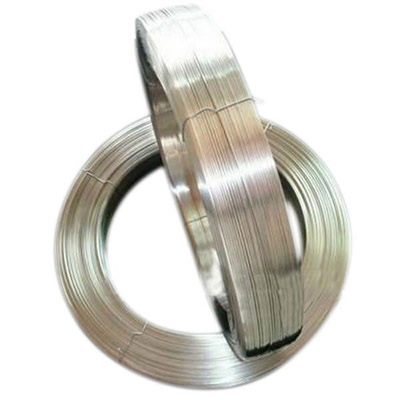 Steel Oval Coil Wire Used for Piano Wire